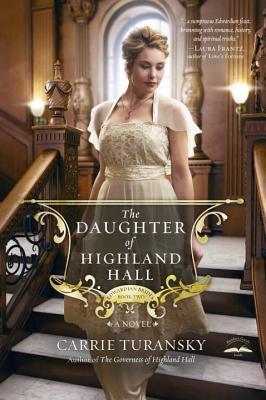 Let me first say that it is my personal policy to not read books in a series out of order. When I was given the chance to read Carrie Turansky's
Daughter of Highland Hall
I made an exception to this rule. I'm so glad I did! The plot grabbed me right from the very beginning. I was able to dive right in and feel completely oriented to the people, place, and story line. After finishing the book, I visited our local Books-a-Million, and my only regret was that they did not have book 1 in stock! Otherwise, I would have happily backtracked to get another story from Turansky.
The plot is about a young lady raised in Highland Hall, who is expected to make an excellent match in her first season. Since her male cousin is inheriting Highland Hall, her time there is limited. There are two men interested in her, and her journey of self-discovery and maturity helps illuminate which would be the right decision.
My only critique to this book is the relationship between Julia and William, an engaged couple that are supporting characters to the protagonists. By every appearance, Julia and William act like a married couple. The decisions they jointly make, Julia's position in the household, and every other nuance of their relationship implies a married couple of at least 3-4 years. I never did fully understand why Julia was still living in the household when she was engaged to the lord of the household and not still fully working in her former capacity as governess. It did not make sense, and came off more as a couple living together prior to marriage. It would have been easy for the author to write a few lines describing the recent wedding of this couple, and she would not have had to change a thing in the rest of the book. That would have taken care of it.
Other than that small detail, I adored this book and will certainly keep my eyes peeled for more novels from Turansky. I recommend the book for fans of the Victorian era and romance enthusiasts.
This book was a complimentary copy from the publisher in exchange for an objective review.