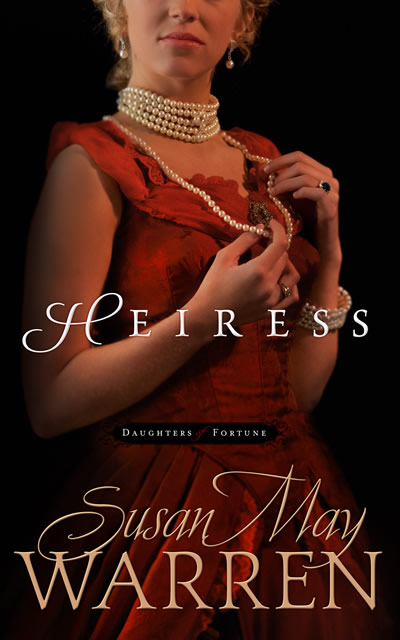 "Heiress" is Book 1 in the "Daughters of Fortune" series by Susan May Warren. This was my first experience reading a novel by Susan May Warren, and I am definitely hooked for life. Clearly, this author is not only talented but an experienced writer as well. The plot was detailed, moved quickly, and the characters were well-written. The historical information was accurate and researched thoroughly. I felt completely transported to the pre-war Gilded Age of New York society.
It's difficult to summarize the story, because there is so much to it. Esme, the older sister, fights her birthright, while, Jinx, the younger sister is eager to embrace their family's way of life. These leads to failed relationships and tragedies. The author managed to work in scandal, sabotage, deception, jealousy, arson, adultery, and even an element of organized crime.
I have seen several Susan May Warren books available in previous years, but the title and cover of this particular novel really grabbed my attention. In the future, every time I see her name I'll snatch it up. This lengthy novel was read in two days flat.
I was dismayed when I read another review claiming that this did not have a strong enough Christian message. That is absolutely untrue. Most women read Christian fiction for enjoyment that is also positive and edifying. It is not designed to replace quiet time. I found the novel very encouraging, and felt that it laid out the path to salvation in a clear cut manner while remaining non-offensive. My opinion is that the novel very much held a Christian slant, and as such was realistic regarding common temptations of people everywhere.
"Baroness" is Book 2 in the "Daughters of Fortune" series, and I can't wait to dig in. Susan May Warren, let's do it!