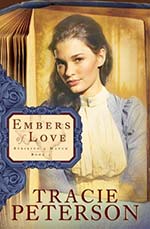 "Embers of Love" is book one in the new "Striking a Match" series by Tracie Peterson. Since I have read a number of Tracie Peterson books and loved them all, I began this one with high expectations. My opinion is that this a very "safe" book, and the author doesn't take many risks.
Strong emotion isn't shown, except when Mrs. Foster learns that her son has had a logging accident. When Euphanel's son has a similar accident, I was left cold and surprised at the lack of emotion shown from this mother.
The plot encompasses more than one main character. Perhaps because of this, not as much attention to detail was given to any one character. The love story between Lizzie and G.W. (which I accidentally mentally pronounced "G.Q." almost every single time when I read it) seemed underdeveloped. The initial dilemma they faced at the beginning of the book was overcome just a little over mid-way through. I had the feeling that the story was over and winding down. Still, since it was so early in the book, I was expecting retaliation from Stuart Albright later on, but it never came. I wondered if there was a romantic attachment between Euphanel and Arjan, but if there was nothing was made of it. I felt that overall it was more of a prequel to the second book in this series which is to be about Deborah.
This book was not as gripping as some of her novels. While I was able to download it for free to my Kindle last week, I believe that the special is over and they are now charging the regular rate for the book. It was well worth my time reading it, but I'm not confident that I will read the second book in the series.